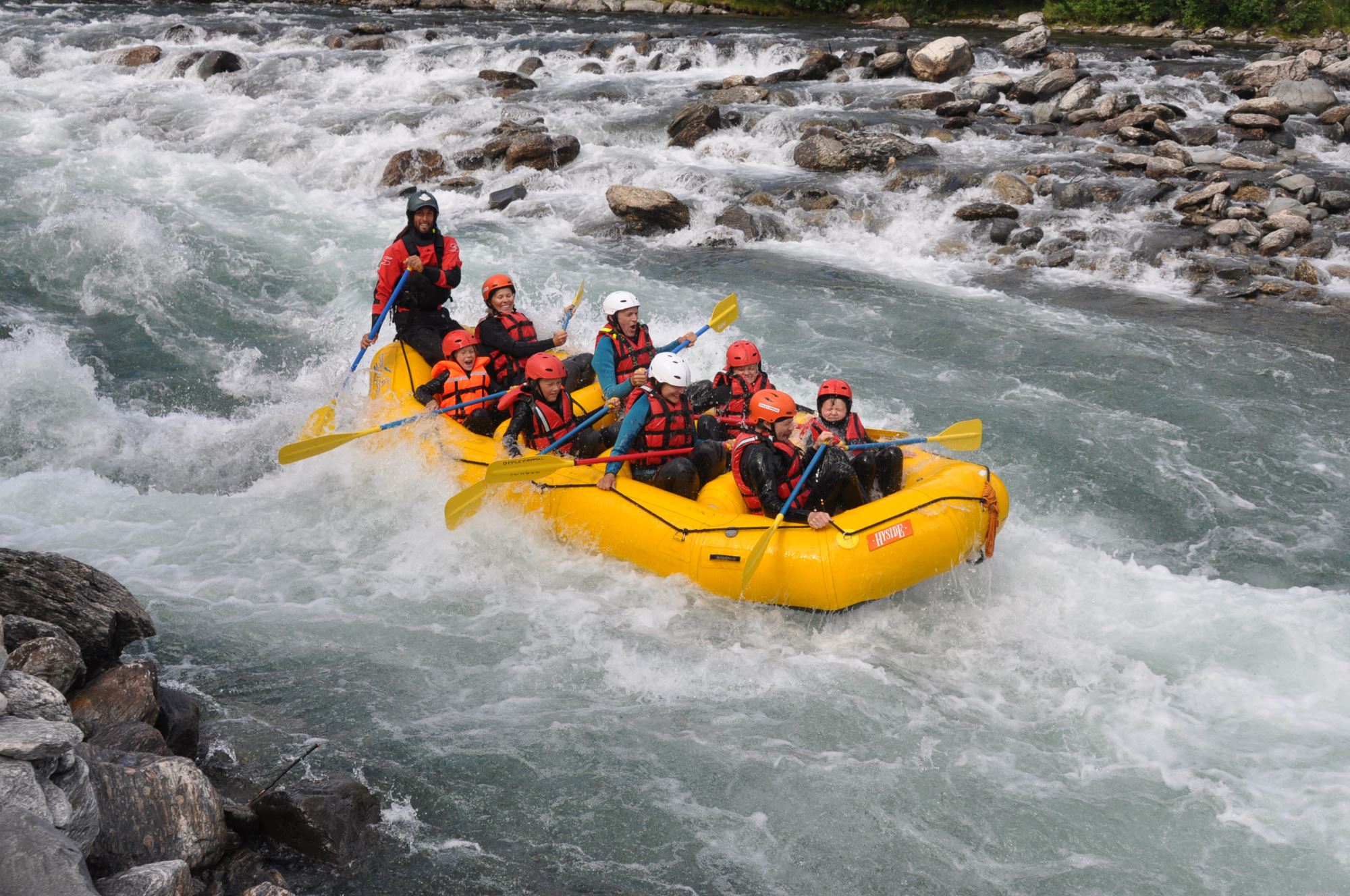 Meeting point
Granmo camping
Rafting Family Tour + Canyoning
Welcome to a family-friendly package tour combining rafting and canyoning! This is perfect for families wanting new challenges, excitement, nature-based experiences and mastery. 
Customise your own package in our booking portal. Remember to select a departure for both rafting and canyoning. 
This is a family-friendly rafting trip offering speed and excitement adapted to suit the age of the participants. The minimum length of this trip is approx. 4 km. This is mostly a gentle rafting trip with as much play and swimming as possible, depending on the river level, temperature and the wishes of the participants. The biggest and most exciting rapids come towards the end of the trip. Cliff jumping is also on the programme.
The canyoning trip starts in the giant's kettle Gardshølen and then follows the canyon down with the current to the steepest point where the water cascades into the river Driva. We then climb a via ferrata above the foaming Driva. Depending on the conditions, you can even have a refreshing swim under the waterfalls. 
Practical information:
This trip is graded 1-2 out of 6 on the international scale of river difficulty. There is no minimum age for this activity, but a minimum height requirement of 116 cm applies owing to the equipment and clothing. This trip is best suited for children aged 6-13. Children under 9 must be accompanied by an adult. 
Arrive at the rafting centre for check-in approx. 10 minutes before the scheduled start time. After check-in, it's time to change into our rafting gear before we are transported to the starting point. Your guide will provide a safety briefing and paddling instruction before we set off. When we reach the end of our trip, transportation will be waiting to take us back to the rafting centre where you will be welcome to have a hot shower if you wish.
Suggested itinerary
10.30: Family rafting trip
12.30: Finish rafting
- break -
14.00: Canyoning in the Festa Canyon
17.00: Finish canyoning
Suitable for:
This trip is suitable for people wishing to challenge themselves. The participants must dare to jump into the water from various heights. This trip is unsuitable for people with a fear of heights. 
What to bring:
Bring a garment to wear under your wetsuit. This must not be cotton. We recommend woollen or synthetic long underwear, swimwear or training clothes. Wear woollen socks and jogging shoes on your feet. Remember to bring a towel and a bag for your wet clothes. Footwear that covers the toes is a requirement. 
What equipment is included?
Use of wetsuit, flotation vest, helmet, climbing harness and rafting equipment
Duration
Approx 7 hours
---